XX
By midnight, the news cycle has lost track of the pirates. They are so yesterday. When I Google them, they are so virtual, so mythic. If I can read about pirates, I can beat them.
Isn't that right?
Should old acquaintance be forgot? How soon we forget.
Real time.
What pirates?
See. It's easy. First, you see them. Then, you don't.
So it is. So it was. So it will be. Until the next ship sails near the pirates.

(Lights down briefly, then up again.)

XXI
My schadenfreude. Pirates are always near water. Most of it is loaded with salt.

XXII
What if I said the President is a pirate?
I said, "What if?"
Whatever.

XXIII
I dream my daughter is marrying a pirate.
But he doesn't wish to go near Somalia on his honeymoon.
There are no pirates. I do not have a daughter.
What is truth?

XXIV
I wasn't going to mention department store conglomerates,
but since you bring it up—

XXV
Janet Jackson's Super Bowl Highlights Tape or a new sonic electric toothbrush?
What do you give a pirate for Chanukah? They seem to have everything.
My hygienist said the smart money is on the Janet Jackson tape, but not for the reason
you think.

XXVI
If I met a pirate, I would tell him to have a nice day. Who am I kidding? There's
no "nice" in piracy.

XXVII
I wonder if there is a Pink Pirate Barbie?
Or if I have mined that well once too often.

XXVIII
On February 26, 1993, where were you at lunch time?
The funniest thing happened to me at work that day. I was thinking about going downstairs to get some lunch and do some errands—but I decided not to.
Then the funny thing happened. There was a big explosion. And for a few moments, as the building appeared to shift back and forth under my feet on the twentieth floor, I wished that I had gone to the World Trade Center, as I had planned. From a disembodied P.A. voice, we learned that all was well and we could go about our business in the building. What to think. I was in New York, after all. New Yorkers, if anyone, know how to go about their business. I did what anyone else was doing. I looked out the window. It was a young boy's paradise of emergency equipment. Ambulances, fire engines, police cars. Lights, beautiful pointillist lights at first, then so many the streets
appeared to run red…and people were running…and the AP wire in the financial services office where I was working was spitting out terrible things. Something that caused terror. And a man I worked with gave me a ferry ticket, saying "Go to Hoboken!" I told him I couldn't leave the window. He screamed at me: "Go now, or you might not get out!" I called my family and told them that I would be a little late getting home because the PATH trains were not running on time. I didn't want to worry them. We were like ghosts in the Winter Garden, but that was nothing like the outside where snow seemed tobe falling, and that was OK since it was February, OK until we all got on the Ferry, and we realized what it was, what it might be. An accident on the tip of our tongues brought home that reality….Yech…I have tasted desecration…And in looking back at that moment, I am struck by how I never gave a thought to Pirates on the Hudson River at the time. If I could only get to Hoboken, straight across to insignificant New Jersey, I would be safe. As if there were no pirates in New Jersey. As if…

XXIX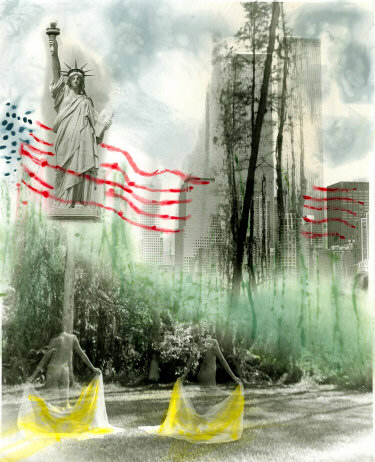 OK. So we knew there were pirates in the world. Our mother read to us about them.
What did we choose to do about them? We ignored them of course. The pirates don't
like that. Hey—they're pirates. Our presidents must be very smart. They know enough to
ask Steven Spielberg help them think about what pirates would actually do….One must
have a mind of water to know what the pirates know.

XXX
September 11. Wait—I didn't say what year.
OK. So you know. And now we know that pirates do live in New Jersey. Is no place
safe? Assume everything is orange level and go about your business. Head north for
greener shopping. If the pirates prevent us from shopping, then they have won the battle
for our hearts and minds. If we don't shop, what will we give the pirates?

XXXI
I'm always thinking about food when the pirates strike. It's probably no surprise I have
trouble with my blood sugar. On September 11, 2001, I was actually choosing beautiful
raspberries for dinner at the supermarket. The lettuce was good that year. So were the
oranges. The pirates have changed all that. Even though we kept shopping. When the
pirates flew into the buildings, everyone was surprised. Pirates are not supposed to grow
wings. There were articles about this mutation in The National Enquirer Star Disgrace rag. But nobody paid attention. Perhaps the next time they will come to us with two
heads and everyone will pay attention. What does it say in Revelations? Be quiet and
prepare to confess. You only get a wafer. And you will be thinking about food.

XXXII
After the pirates demolished the World Trade Center, people said it was a new tactic
on the part of the pirates. My children called me from all over the place because they
were afraid I was working in New York that day. Old memories surfaced. Where was
Mom? This was also a funny thing. Why? Because one of my children was living
In New York on fifty-third street, going to law school to learn about the pirates, when
he called to find out about me.
When he reached me, I told him that pirates had a new paradigm. Now, the mothers
stay home. It's the children they're after. He did not think that was funny.
I'll be home for Christmas. You can count on me. All over for a man I knew who
worked in the tower. He would have celebrated Chanukah with his newborn son
that year, had the pirates not chosen that moment. Giving rise to theories.

XXXIII
The pirates are not interested in theories. They believe in action.

XXXIV
How do I live with the terror so easily? A year after the first episode at the World
Trade Center, I watched my father put his teeth in a glass.
"So what?" You ask. If fathers live long enough, nearly everyone
will see that. I don't think so. Get ready. Or cover your ears if you like.
OK. He was pulling them out one at a time. "They are bothering me," he
cried. One by one, I watched him pull out five teeth.
OK. So you are wondering why I didn't call the police. Why I didn't call
somebody else to witness the bloody stumps. How my family could sit in a room
with an elephant called manic depression and let it run its course?
Why didn't I? Why didn't my mother? I was afraid I would never see him again,
and, well, he was the one who taught me to fear no evil, to stare
down pirates if necessary.
I told you before. Pirates have no use for teeth.

XXXV
The thing about horror is that it begins to fade.
I wish it wouldn't. Without it, I may never
be able to look into the eye of the pirate.

XXXVI
You know and I know. Some day our pirates will come.

XXXVII
It was snowing. I swear it was snowing.
(Blackout. End of play.)
---
Image: Loren Ellis, The Silent Twins with Hope