Boaz Kadman: A Selection
Boaz Kadman
Visual Artist Boaz Kadman works in a manner that is self-deprecating, satiric, and tongue-in-cheek, but also smart, forthright, and serious. From large-scale installation pieces to meticulously integrated collage work to self-published comic zines, he often introduces awkward and confusing elements into his otherwise carefully crafted work.

The following selection presents Kadman's solution to composing in words. "I always did, and still do, a lot of collage work," Kadman told Zeek. "So I pick up old books and such from wherever. I found a lot of old books with text only, so I started cutting up certain words and piecing them together without any clear plan. It's hard for me to write texts, stories, essays, and this way was easier."
He lost a shoe walking down the street
All the helplessness and desperation that alcohol causes
A few young men that dedicated themselves to poetry
Came in and out of the coffee shops
If a stone falls as it get dark
It's as if it didn't exist at all



Spring fever
Even now there's no point trying to explain
All sorts of spots and stains on the carpet
Dad was right
Some things are better kept within the family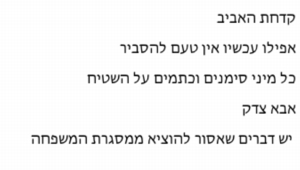 Boaz Kadman was born in Petach Tikva in 1971. He holds a BFA in Art from Ha'midrasha School Of Art, Beit Berl, and studied at the Bezalel Post Graduate Program, Tel Aviv. He has held solo exhibitions at the Tal Esther Gallery, Kav 16 Gallery, and Haifa Museum of Art, and participated in numerous group exhibitions. He has published comic and poetry zines, and edited "Plan-B," an anthology of independent Israeli comics. He lives and works in Tel Aviv.