Upcoming Events with Zeek
Past Events:
Jewish Women, God, and the Next Generation
Featuring
Rabbi Danya Ruttenberg, Author of Surprised By God: How I Learned to Stop Worrying and Love Religion
.
Jen Taylor Friedman, first known female Torah scribe and creator of Tefillin Barbie
.
Dr. Tamar Kamionkowski, Academic Dean of the Reconstructionist Rabbinical College
.
Dr. Judith Plaskow, groundbreaking feminist theologian and author of Standing Again at Sinai
.
Thursday, Apr 23, 7:30 pm
92nd Street Y, Lexington Avenue at 92nd Street
$27/$12 with this card or code 'ZEEK'
Order online at
92y.org
or call 212.415.550
This Is One Story You've Got to Hear
An Evening with Etgar Keret
Saturday, March 21, 2009
8:30 p.m.
Hebrew College, 160 Herrick Road, Newtown Centre, MA
Join us for a provocative evening of reading and discussion with the internationally acclaimed writer and filmmaker Etgar Keret. Drawing on his experiences as a creative writer and political commentator, Keret will explore the artist's role in shaping contemporary Israeli culture.
More information here.
Inside the Activists' Studio

Sunday, February 22, 2009
Contemporary Jewish Museum
736 Mission St, SF
3:00 p.m. to 8:00 p.m.
Registration begins at 2:30 p.m.
Panel discussion with
(bios
here
):
Ahri Golden, Founder of
Thin Air Media
Ari Derfel, Founder of
Back to Earth Organic Catering and Outdoor Adventures
Joanna Levitt, Co-Director of the
International Accountability Project
Josh Becker, Founder and Board Chair,
Full Circle Fund
Moderated by:
Adrienne Fitch-Frenkel, Co-Host of Terra Verde, the weekly environmental radio program on KPFA, and Fair Trade Cocoa Campaigner at
Global Exchange
Live Performance:
Excerpt from the critically acclaimed theatre play
Angry White Black Boy
by Dan Wolf, adapted from the novel by Adam Mansbach.
Skills-share workshops with
:
Cole Krawitz, Communications Consultant and Founder of
JVoices.com
Dan Wolf, Actor, Writer, MC of Felonius and Program Manager of
The Hub at JCCSF
Joanna Levitt, Co-Director of the
International Accountability Project
Samantha Witman and Yasmeen Peer, Unity Program Educators,
Abraham's Vision
Julie Dorf, Consultant,
Horizons Foundation
and Senior Advisor for Council of Global Equality
Naomi Starkman, Food Policy Media Consultant, Former Director of Communications and Policy of Slow Food Nation, and Co-Founder of
Civil Eats
Zelig Golden, Staff Attorney,
Center for Food Safety
and Co-Chair of the 2008 Hazon Food Conference
To see the complete workshop descriptions, please click
here
.
Cost:
Sliding scale, $8-$18 (No one will be turned away for lack of funds)
To register, please click
here
.
The Activists Studio
7 December 2008, from 3.30 pm

2 W 64th Street
New York, NY
$8 - $18
Join us to learn from and be energized by local Jewish change-makers and to celebrate the multitude of ways we are working to create a more equitable world.
Sex and Relationships in the 21st Century with Zeek Magazine
Thursday 11 December 2008
92YTribeca
200 Hudson Street
Tribeca, NY
$12 entry. Online tickets
here
.
Joshua Henkin (author of New York Times Notable Book of 2007, Matrimony), Dan Friedman (Associate Editor of Zeek and Arts and Culture editor at the Forward), and Esther D. Kustanowitz (blogger, My Urban Kvetch and JDaters Anonymous) offer a literary take on the themes of love, romance, and sexuality. Find out what writers have to say about the role of marriage in modern families and societies, and the ways that relationships have changed in recent history.
Zeek Unconferences: What's Next for the Jewish Social Justice Movement?
Sunday, November 9, 1:00-5:00 pm
Where:
DC Moishe House Silver Spring
New York Sixth Street Community Synagogue/ New Yiddish Rep
Boston Moishe Kavod House Boston
San Francisco Congregation Sha'ar Zahav
What:
The election is over, and no matter who won, we have, in a sense, only just begun. On the issues that matter the most to us, how do we work with the new administration to make sure our voices are heard? How can we join forces with others in the Jewish world to create a Jewish Justice Platform for the next four years?
In this non-partisan setting, you decide what you want to discuss. There are no speakers and no pre-determined topics. You set the agenda, you create the workshops, you lead the discussion groups. We provide the space and facilitate.
How:
Come promptly at 1:00 pm. You will be asked to make a contribution at the door, on a sliding scale of $5 to $25 and in return you will receive Zeek's new print issue on social justice. The first 45 minutes will be spent together as you self-organize into workshops and discussion groups. At 4:00 pm, everyone will come together for an open, facilitated discussion based on what was talked about in the smaller groups.
Who:
Cosponsored by Congregation Sha'ar Zahav, JCUA, Jewish FundS for Justice, Jewish Mosaic, Kol Tzedek, LGBT Alliance of the Jewish Community Federation of San Francisco, the Peninsula, Marin and Sonoma Counties, Progressive Jewish Alliance, the Righteous Indignation Project, Sixth Street Community Synagogue, and.the New Yiddish Rep, with generous support from Stephanie and Jeff Galinson.
For More Information:
Friday, October 24
Magee Park, Carlsbad
Outdoor Shabbat Service
7:00
Drumming Circle
Saturday, October 25
At the LFJCC
coffee and pastries
9:00
Jessica K. Lew
Weaving Past and Present
Jewish-Mexican community organizer integrates past and present journeys
9:00
Jo Ellen G. Kaiser
LGBTQ Shabbat Service
Reform Service using new LGBTQ Siddur
10:15
Bara Sapir
Art workshop: Connecting inner and outer spiritual work
In this experiential workshop, we will explore how personal boundaries and self perceptions influence the complex interaction we have with visual culture and life. We will read Jewish texts and engage in creative process to explore if these boundaries influence cultural contexts and anchors or if they are isolated experiences. We will identify and question notions of self and our invisible, yet rigid edges, in attempt to navigate, redefine and stretch ourselves. The creative process and artifacts we make will invariably reflect our lives, while it might consciously reframe and influence new perceptions.
12:00
Lunch
LJCC Rotunda
vegetarian
Go to www.zeek.net/san_diego_lunch to reserve your free lunch
12:30
David Antin
Performance
Poet breaks boundaries of spoken and written
1:30
Merav Rosenblum
The Act of Translation
Reading new work in Eng, Spanish, Hebrew
1:30
Immigrant Families
Crossing the Border
Witnessing the impact of immigration policy
2:45
Raz Mesinai
Doing Dub
Arab-Israeli sound meets hip-hop
2:45
Rabbi Coskey
Borders at what cost?
A faith-based approach
Madre Patricia
4:00
Eleanor Antin
Reading
Antin reads from an unpublished book on Stalin-era American Jews
5:00
Reception
LJCC Rotunda
Cofee, tea and pastries
Price Ballroom, UCSD
Bar, finger food
7:30
Cantor Kathy Robbins
Havdalah Service
8:00
Raz Mesinai aka Badawi
Dance Party with live set from Jerusalem born producer and composer Raz Mesinai. Opening set by DJ Mutta Massik.
$10 cover charge
Sunday, October 26
12:00-4:30
John Fanestil
At the Borderlands
Go to www.zeek.net/san_diego_van to reserve your spot for this exciting trip
The Dept of Homeland Security is creating triple fencing along the length of the border between California and Mexico, including creating a double fence across "Friendship Park" where people currently can meet and visit through the border fence. The fence will prevent the public from having access to this historic meeting place.
Our trip will be an introduction to the issue of border fencing and a chance to visit this friendship park before it is eliminated. It will include a trip to Smuggler's Gulch, a beautiful canyon which is being filled with dirt as part of the fencing project. We will also be able to participate in or observe an interfaith Christian service at the fence at 3pm. We will meet at the LFJCC and return there.
Poetry and Prose Readings by Russian Authors
from
Zeek, a Jewish Journal of Thought and Culture


Thursday, October 2nd, 6:00 PM
McNeir Auditorium (see
campus map
)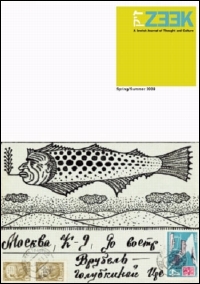 Having been featured in Zeek, Georgetown University's Program for Jewish Civilization and the Center for Eurasian, Russian & East European Studies presents four contemporary Russian Jewish writers come to Georgetown for a cosmopolitan evening of poetry and prose.
• Polina Barskova

• Paul Lembersky

• Val Vinokur

• Matvei Yankelevich


Please
RSVP
.
Get Lit 2008
Thursday 25 September 2008
American Jews and Comics
Wednesday 10 September 2008
Western Massachusetts Music and Arts Festival
Sunday 21 September, 2008
Zeek co-sponsors the 1st Annual Western Massachusetts Jewish Music & Arts (WEMA) Festival, which will take place outdoors on the grounds of the Springfield, Massachusetts Jewish Community Center.
In addition to great live acts performing at WEMA - Neshama Carlbach, Jewmongous, and Golem - WEMA will also host local and regional arts & crafts, children's entertainment, book readings, international foods, and more.
WEMA Fest will draw from the local and regional communities of Springfield; Worcester, MA; Hartford, CT; Providence, RI; and more.
Tisha b'Av Exchange 5768 - A Day of Dialogue and Study
Sunday, 10 August 2008 (Tisha B'Av)
Skirball Center for Adult Jewish Learning
One East 65th Street (between Fifth and Madison Avenues), New York
Free
Noon | Living (and Dreaming) in Exile: Tisha b'Av and Tibet
Jay Michaelson
Founder, Unlit Candle for Tibet and Tibet Oral History Projects, and Founding Editor of Zeek: A Jewish Journal of Thought & Culture
Tashi Phuntsok
Tibetan activist living in the United States
Mickey Spiegel
Senior Researcher, Human Rights Watch/Asia moderator
Rabbi Stephanie Ruskay
Education Director, Avodah: The Jewish Service Corps
1:30 PM | I'll Give You Something to Cry About! A text study Experience
Rabbi Yael Shmilovitz
Program Director, Skirball Center for Adult Jewish Learning
2:30 PM | Shmirat HaLashon: Personal Speech and Public Discourse
Seth Aronson
Psychologist; Fellow, Faculty and Training and Supervising Analyst at the William Alanson White Institute; Faculty, Yeshivat Chovevei Torah
Ami Eden
Editor-in-Chief, Jewish Telegraphic Agency
Rabbi Amy Sosland
Judaic Studies faculty, Solomon Schechter High School,White Plains, NY
moderator
Daniel Septimus
Editor-in-Chief, MyJewishLearning.com
BlintzKrieg
10 June, 2008
Bowery Poetry Club
Get ready to study Torah all night and be prepared for the BlintzKrieg that is this year's Shavuot at the Bowery Poetry Club. The line up includes 3 Expert Blintz Chefs, 2 Awesome Bands - Avi Fox-Rosen, and Jake Shulment's Klezmer Kream Pie, and 1 Battle of the Blintz. It will be an evening of suprises and unparalleled gastrophonic stimulation
Jewish Identity and Ensemble Theatre-Making
June 16 - 22, 2008
Isabella Freedman Jewish Retreat Center
$500 for the week
This Jewish Arts Institute retreat focuses on Jewish identity as it is lived within story. Using found and generated texts, participants will explore the theatrical vocabulary of ensemble storytelling. Movement and vocal improvisation will support the work. Sense of play, poetry of the body and spontaneity all are important elements in ensemble theater-making. Text will be a point of departure, and then we'll move beyond intellectual interpretation to discover what meaning may lie beneath it and how the dynamics of the group can bring forward the unexpected. Great theater is meaningful and is made up of surprises! The workshop will be a working environment where meaning and surprises can flourish. The exploration will be challenging, fun and rooted in the community that we will build throughout the week.

The institute is designed for all Jewish artists — teaching professionals and novice practitioners alike. The institute will include Music, Theater, Visual Arts and Creative writing. It will offer a methodology, a coherent integrative philosophy by which to approach the arts as a key to unlock Jewish learning in a relevant, passionate, intellectually stimulating and emotionally fulfilling way.


reJEWvination Retreat
9 - 11 May
Club Getaway, Kent, CT
$120
Spend 3 days in an Exclusive Tusovka at Club Getaway with 100 Jews in their 20s and 30s. Expereicne the richness of Jewish and Israeli culture. Explore the outdoors: hiking, mountain biking, climbing wall and a zip line. Enjoy the sounds of a hot New York band in a cool atmosphere.

Email alina [at] jchb.org or call 718 943 6334 for an application.



The Amazing Frozen String Quartet CD Release
Wednesday, 30 April, 2008
Bowery Poetry Club, cnr. Bowery and 1st Street, NY
8pm, $8
Zeek is co-sponsoring the release party of The Amazing Frozen String Quartet's debut CD release. The band will be performing alongside Winnipeg's The Ukuladies, and Jake Shulman-Ment's Klezmer Kakophony. This event is co-sponsored by Zeek, who will be providing poets and some spoken word performances to the festivities.
"Soviet Jewry" in 2008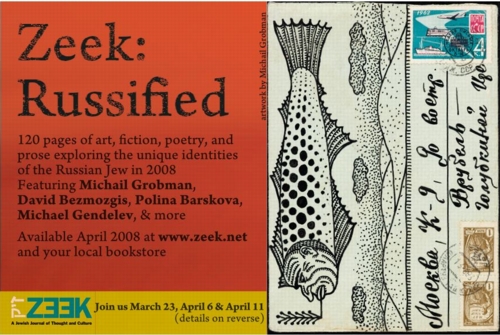 Zeek: A Jewish Journal of Thought and Culture has devoted a special print issue to the persevering Russian Jewish Diaspora. The Spring '08 issue presents work engaged with identity, history, language, and culture, and features contributors from around the world. It is a journal of record on contemporary Russian Jewish artistic production. To celebrate this new issue, we are proud to present a series of events, presented with the support of UJA-Federation of Greater New York and the Young Adults Task Force of Combined Jewish Philanthropies of Boston:

1. Salon & Performance
Sunday, March 23, 2008 The Jewish Museum, 1109 5th Ave at 92nd St,
3.30 – 5 pm,Free with general admission
Join Zeek for a performance by the bard and poet Vadim Pevzner and a presentation by visual artists Alina and Jeff Bliumis as part of Off the Wall: Artists at Work. Free with museum admission. Museum admission also includes entry to Levi Okunov's fashion show on March 27.
2. Zeek: Russified Downtown Release Party
Sunday April 6, 2008
KGB Bar, 85 E 4th St an 2nd Ave
An evening of celebration and readings, featuring Zeek contributors Val Vinokur, Matvei Yankelevich, Margarita Shalina, David Stromberg, and more. Co-presented by the 14th Street Y. Free admission and free Zeeks available. Supported by the UJA-Federation of Greater New York. First 30 guests also receive a free shot of vodka.Na zdorovye!
3. Zeek: Russified Boston Release Event and Reading
Thursday, April 10, 7pm
Barnes & Noble, Kenmore Square, Boston,
Join us for an evening of readings and performances by the next generation of Russian-Jewish writers, including Val Vinokur, Matvei Yankelevitch, Margarita Shalina, David Stromberg, and more. Cosponsored by Center Makor. $5 suggested donation, $10 includes magazine
4. Russian Writers Found in Translation
Friday, 11 April, 2008
Melville House Publishing, 145 Plymouth St, Dumbo,
7 – 9 pm, Free
Zeek hosts bilingual writers in the US presenting their original works translated from the Russian into English, including readings by Polina Barskova, Irina Mashinski, and Pavel Lembersky.
And coming this April to Boston:
Boston Jewish Voices: An Evening of New Words and Music
Sunday, April 6, 730pm-11pm
Middle East, 472 Mass Ave. Cambridge, MA
(T: Central Square)
Join Zeek for a full night of performances, readings, and music by some of Boston's leading young writers and musicians. Our lineup is a who's who of the young literary scene in Jewish Boston: Jon Papernick, (Who By Fire, Who By Blood), Jay Michaelson (God in Your Body, Another Word for Sky), Peter Bebergal (The Faith Between Us), writers from the anthology Righteous Indignation: A Jewish Call for Justice, plus musicians Floxy Blu, Rakia, and the Mark Lipman Band. Slam poetry, confessional prose, freestyling, edgy fiction, folk and funk -- this is the New Jewish Culture at its independent best. Presented with the support of the Young Adult Task Force of Combined Jewish Philanthropies.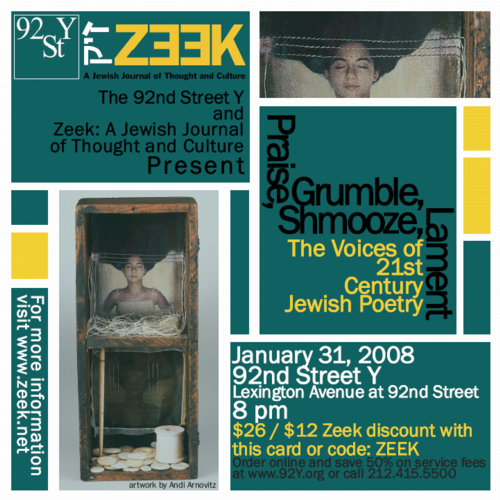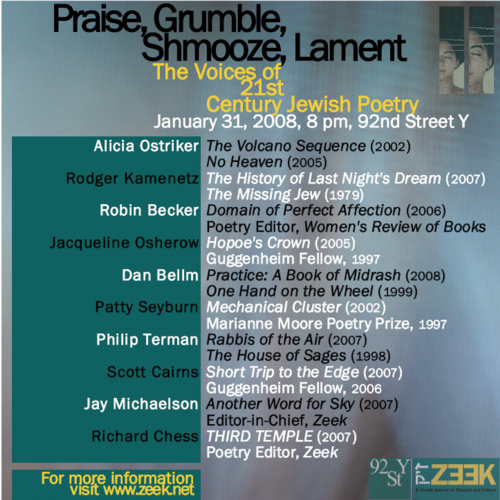 Book Launch Party for Righteous Indignation: A Jewish Call for Justice
Save the Date! - - Wednesday, January 9th, 7pm, at the home of Ruth Messinger, President of AJWS, 91 Central Park West corner of 69th St., Apt 7a.
Hear from leading Jewish intellectuals, activists, and religious leaders!
Connect with Jewish activists from around the city and beyond!
Find out how you can help make environmental and social justice issues religious priorities in the 2008 election!
The event will include wine and cheese, shmoozing, and an interactive program about the Righteous Indignation Project, including information about how to get involved in this exciting justice initiative.
Cosponsored by American Jewish World Service, AVODAH: The Jewish Service Corps, Coalition on Environment and Jewish Life, Encounter, Jewish for Racial and Economic Justice, Jewish Labor Committee, Jewish Funds for Justice.
Zeek's fall issue is being released this month! Dedicated to music and featuring artists including Philip Glass, Sacha Baron Cohen, Sagol 59, Laurie Anderson, Basya Schechter, Kobi Oz, and including a FREE CD of the best new Jewish music with every magazine, the fall issue is Zeek's most ambitious ever. To celebrate, we're having a series of events in October, coinciding with the Oy!hoo Jewish music festival in New York.
The Oy!hoo Shmooze
October 22, 2007
UJA Federation of New York, 130 East 59th Street
Imagine a South By Southwest or Sundance Film Festival or APAP for the Jewish Cultural & Entertainment Industry. Well, here it is. New perspectives emerge as professionals and students from the Jewish culture, art and media worlds engage in dialogue about current musical and artistic developments within and outside the Jewish community. At 3pm on Monday, join Zeek's Associate Editor, Dan Friedman and the author of "Funny Antisemitism: Is it Good for the Jews?" in a conversation about parodic antisemitism as part of Oy!hoo's Shmooze conference.
http://oyhoo.com/events/schmooze-07
Registration is $150 at oyhoo.com. Space is limited to 250 participants. For more information, contact david [at]oyhoo.com
Chana Rothman's We Can Rise Launch Party
Wednesday, October 24, 7pm
Mercury Lounge, 217 E. Houston Street
Zeek featured artist, Canadian-raised Brooklynite Chana Rothman, takes you on a roots-driven lyrical journey of spoken word, acoustic reggae, and freestyle rhymes. Incorporating both ancient and modern Hebrew into her message of empowerment and unity. Magazines will be given away and Zeek's Dan Friedman will be part of the action. Contact chanarothman.com or myspace.com/chanarothman for advance tickets and more info. $10.
The Party Continues...
Wednesday, October 24, 8pm
Bowery Poetry Club, 308 Bowery
After Chana's set, head over to the Bowery Poetry club for a night of poetry and music hosted by Zeek contributor and Mimaamakim impresario Jake Marmer. Featuring Jake's own Frantic Turtle and a night full of howlers, screamers, shouters, and freaks. Zeeks for sale and drinks are flowing.
Shemspeed Launch Party
Thursday, October 25, 8pm
Knitting Factory, 74 Leonard Street
Join Zeek and our frequent co-conspirator dj handler, for an all-star night launching Shemspeed, the largest and most diverse Jewish music site on the web, and Zeek's Fall 2007 Music Issue. With performances by: Y-Love*, Pharaoh's Daughter* Unplugged, King Django, Sway Machinery w/Brian Chase of the Yeah Yeah Yeahs, Smadar, Blue Fringe, Rav Shmuel, Rachael Sage, dj handler, Shem's Disciples, Kosha Dillz, Yuri Lane, DJ Balagan, Michelle Citrin, Chana Rothman*, Juez*, Jon Madof, Noir, D. Wolf from Felonious, Luminescent Orchestrii, Jay Michaelson*, Matthue Roth, Hebrew Mamita, Adam Shechter, Jake Marmer* and many more special guests. Two floors, $15. * indicates Zeek featured artist
Ravayah
Saturday, October 27, 8pm
Centerpoint Yoga Studios, 324 Lafayette St.
Ready for the biggest bash of them all? Join Zeek at Romemu's Ravayah, a full night of music, celebration, poetry, performance, and more. Celebrating both the release of Zeek's fall issue and the publication of Zeek chief editor Jay Michaelson's new book, Another Word for Sky: Poems. Featuring Jay's ecstatic poetry performance with drums and music, performances by Avi Fox Rosen and more, and a dance party into the wee hours. $10 with books, magazines, organic food, and CDs available for purchase.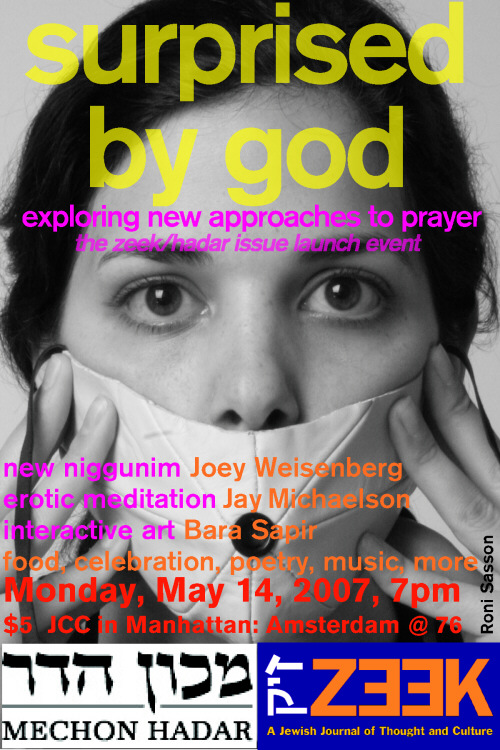 Publishing Prophecy: Activist Journalists Then and Now
Wednesday, March 7th at 8pm
Bronfman Center for Jewish Life, 7 East 10th Street, New York, NY
Sponsored by PresenTense Magazine
Jonathan Mark of the Jewish Week, William Rapfogel formerly of Jewish People, Susan Weidman Schneider of Lilith Magazine, Daniel Treiman of New Voices and the Forward, and Leah Koenig of Zeek will discuss their activist journalism experiences and their penchant for publishing insightful prophetic voices. The event will be hosted by PresenTense Magazine and co-sponsored by the American Jewish Press Association, American Jewish Historical Society and NYU's Department of Journalism.
Jewish Seekers and Finders
Wednesday, February 7, 2007, 7pm
Makor, 35 West 67th Street, NYC.
This is an age of spiritual exploration, with people discovering, rediscovering, straying from and connecting to their Jewish roots in new and fascinating ways. Join some of the today's most interesting modern seekers, as they describe their journeys: Robin Chotzinoff (Holy Unexpected: My New Life as a Jew), Jay Michaelson (chief editor of Zeek), Rabbi David Ingber (Kehillat Romemu) and Gabriel Sanders (assistant editor of the Forward).
Is the Torah really a Basis for Liberal Values?
Tuesday, February 20, 8pm
Skirball Center, 10 East 66th Street, New York, New York
Today, it's common in some circles to hear claims that the Bible aligns with modern liberal ideas such as taking care of the less fortunate, pursuing peace and justice, and ending baseless hatred. So does that mean that far-right Jewish ideologues, and Jewish neo-conservatives, are just plain wrong? Join Jay Michaelson, chief editor of Zeek: A Jewish Journal of Thought and Culture, for a hard-nosed look at the many voices of Biblical text.
Babel to Bamba: New Words From, About, and Wrestling with Israel.
Sunday, February 25, 5:00-6:30pm
JCC in Manhattan, 334 Amsterdam Ave @ 76th St
Zeek presents poets, writers, performers, and artists shouting, jamming, and reciting their work about the Promised Land. Featuring both American and Israeli voices (and Israeli-American ones), we'll move beyond the cliches to engage with the social, political, and religious realities of Israel and diaspora, as reflected in the literary mind. Co-presented with Corner Prophets as part of Israel Non-Stop at the JCC.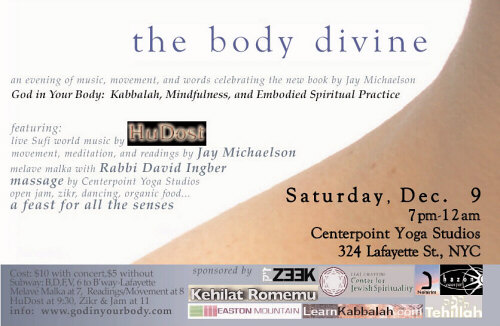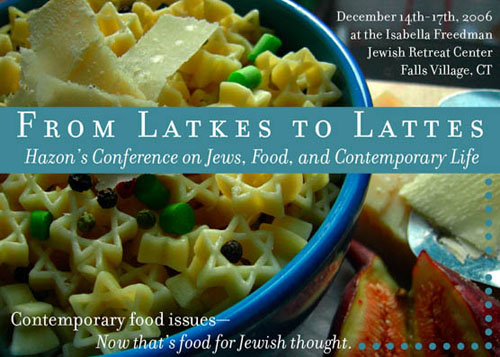 Jews on a Shrinking Planet: Time to Rethink the "Jews and Food" Thing?
November 14, 2006, 8pm The Skirball Center, 10 East 66th Street, NYC.
Jews on a Shrinking Planet: Time to Rethink the "Jews and Food" Thing? Jewish identity has been bound up with food for 3,000 years – from the laying down of biblical dietary laws to 21 st century jokes about minimalist, "gastronomic" Judaism. Hosted by Sarah Chandler. Co-presented by Zeek: A Jewish Journal of Thought and Culture and Hazon.

The Oy!hoo festival is a gathering in downtown New York from September 10-17, featuring concerts by John Zorn, the Klezmatics, Hadag Nachash, David Broza, Pharoah's Daughter, and many others, as well as panels and workshops with leading figures in the new Jewish culture. Zeek is a proud cosponsor of this event.