Biography as Destiny: Eva Hesse at the Jewish Museum
Esther Nussbaum
Around and around: the ongoing debates over Eva Hesse
Regularly exhibited during her lifetime in the museums and galleries of New York and abroad, Eva Hesse is still considered one of the major international artists of the late 20th century. Having studied at Yale University, she spent some time in Germany in the mid-1960s before returning to New York, where, between 1965 and 1970, she produced a body of drawing and sculpture that continues to exert an extraordinary influence on younger generations of artists. Her sense of herself as a female artist, choice of materials, Jewishness, and place in the artistic pantheon are, even today, hotly debated by art historians and critics.
In discussions of her work, one key area of debate has been the extent to which her sculpture should be contrasted with Minimalist work of artists such as Carl Andre and Sol LeWitt. Though some scholars prefer to herald her as a proto-feminist artist at odds with Minimalists, others draw many parallels between her work and theirs, looking to their shared use of seriality, repetition, floor sculpture, and industrial materials.
The technical and formal similarities are not the only reason to consider such links, Hesse had an extraordinary range of contacts in the New York art world, and knew, personally and professionally, figures such as Andre and LeWitt as well as Mel Bochner, Robert Smithson, and Richard Serra.
Some feminist approaches to Hesse look in detail at the work of 1964-66 such as Ringaround Arosie, included in the exhibition at the Jewish Museum. To what extent can one read these works in terms of bodily imagery? Breast forms, phallic forms, and womb like forms do appear in Hesse's work, but never in the explicit manner of later 1970s feminists.
Different psychoanalytic theories have been mobilised to think through these aspects of Hesse's work, particularly Melanie Klein's writings on the "part object." Some art historians have also considered why these forms drop out of Hesse's late sculpture, and in what way the physical body and a sense of the bodily might be in play in the late works without the body being directly represented.
Another area of debate concerns the material deterioration of Hesse's work. She was one of the first artists to use latex and fibreglass, and many of her works in these media have become discoloured and brittle over time. As a result of this decay, some of her most important pieces can no longer be shown. Hesse knew, to some extent, about the durability of her materials, but there is no way of telling whether she would have remade certain works had she survived to see this deterioration.
Must one read the frailty of her work as connected to her long-term illness and early death? Should curators and conservators re-fabricate certain works whilst Hesse's studio assistants (who made the work alongside her) are still alive? What authority should those studio assistants have over an art work in which they were complicit but not in charge?
Continued on page 2
Is biography destiny? "Eva Hesse:Sculpture," a starkly dramatic exhibition showing at the Jewish Museum through September 13, unabashedly claims that it is, as Hesse's Jewish biography allows the curators to take her and her oeuvre and sculpt her into a Jewish artist. The inclusion of a vast amount of family memorabilia, much of it documenting a traditional Jewish life into adulthood, constitutes both a large part of the exhibition and the justification for showing works at the Jewish museum that have neither Jewish subject nor obvious Jewish content.
Hesse died at the age of 34 in 1970, leaving behind diaries, photographs and interviews, and having just produced some of her most astonishing sculptural works during the period in which she was battling brain cancer. The thoughts and words of the artist herself provide the clues as to how, and why, she came to be an innovative sculptor of innovative materials and works that challenged conventional artistic norms. Her experiences – as Jew, immigrant, refugee, and survivor of family trauma - each in its own way affected Hesse's world view and artistic goals. Hesse's early exploration of new modes of sculptural expression through the use of mundane materials – latex and other rubber, surgical hose, fiberglass – whose resulting forms were deliberately unpredictable, is consonant with a persona developed out of as her sense of displacement. The narrative texts that accompany the exhibition emphasize the artist's belief that "her art and her life were interconnected."
Hesse was born in Hamburg, Germany in 1936, the second of two daughters of a middle class couple already feeling the effects of Nazi laws against the Jews. While her mother Ruth came from a non-religious family in Hameln, her father, Wilhelm (later William), a lawyer, was committed to the Orthodox way of life and was involved with the religious community in Hamburg. In 1938, as a result of the increased Nazi threat, Eva and her sister Helen were sent on a Kindertransport to Holland and lodged in a Catholic school. They were reunited with their parents after a relatively short, but nevertheless traumatic, separation. The family eventually made their way to New York City, settling in the growing German Jewish neighborhood of Washington Heights. Helen Hesse Charash, the artist's sister, emphasizes in materials included in the exhibition how much their environment was suffused with Jewish ritual and community.
Hesse's Jewishness is further emphasized in the detailed Tagebucher (diaristic photo-albums) William Hesse made for his daughters, which show the family's observance of Jewish holidays and Eva's attendance at afternoon Hebrew schools and at an Orthodox summer camp where this writer met her in the summer of 1949. I recall a dark-eyed melancholy girl whose sorrowful history made her seem to her bunk-mates like a fairy- tale victim, evil stepmother and all. (At that time and age, we were hardly knowledgeable about the extent of the Holocaust or about the traumas of those who managed to escape.) She was recognizably different from the rest of her carefree American-born bunk-mates, which could account for her early feelings of being an outsider.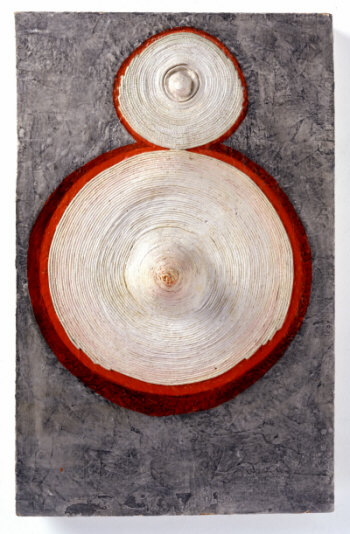 As I followed her career during her lifetime and the exhibitions of her work since her death (including a major retrospective at the Tate Gallery in London in 2002) I was often provoked to think how little we really know our friends or can envision their potential. Of course, much of Hesse's intense pain and stress was due to the difficulties encountered by many refugees. But in her case the trauma was aggravated by her mother Ruth's manic-depressive illness that had already been manifest in Germany and was now intensified by their new living conditions and concern over the fate of family members left behind in Germany. Ultimately Ruth moved out of the home, the parents divorced, her father remarried, and soon after -- shortly before Eva's 10th birthday in January 1946 -- her mother committed suicide. Eva Hesse's own emotional stability would be a life-long concern. Despite emotional support from her father and early recognition of her talent by fellow artists and critics, Hesse suffered from panic attacks, insecurities over her abilities, anxieties over her status as a woman, woman artist and wife. In a lengthy 1970 interview with Cindy Nemser when she was already quite ill ( published in Art Talk), Hesse stated "…in my life – maybe because my life has been so traumatic, so absurd –there hasn't been one normal, happy thing. I'm the easiest person to make happy and the easiest person to make sad because I've gone through so much." Her personal depictions invite a psychoanalytic gloss, which critics and curators have been happy to provide.
---
Top image: Eva Hesse, Glass Case. Lower image: Eva Hesse, Ringaround Arosie