I noticed on my very first run (three miles, around the reservoir) that when my bodymind got tired, my mind started to quiet down. It was just too tiring to keep thinking and worrying while running. And it became very easy to let thoughts drop,
because I could always come back to the running. If words or music got stuck in my head, there was the rhythmic sound of my feet to ground me (on the gravel of the reservoir path, the sound is like yah, yah or allah, allah; hearing each sound as a Divine name is a Sufi and Jewish meditation practice). If I was thinking about work, or relationships, or whatever, there was very 'loud' breathing to come back to, and a steady pace to maintain.

I think of my pace almost as a heartbeat. It's a mode of being - this is me running at the pace. My pace is relatively slow - I run seven minute miles in a 5k, but in the marathon I ran nine minute miles - and it feels natural. Sometimes I feel like, as long as I run at the pace, nothing bad can happen. Pain will come up, and I'll see it, but I can drop into the Witness of the pain, rather than be captured by it. Anger will come up - I really hate those people who run the opposite way on the loop or the reservoir track and don't get out of the way - but it drops soon enough. And there are times when, with the mind truly quieted, the leaves and blue sky come alive in their own unembellished radiance.

Dan: I came to Roger Joslin's Running the Spiritual Path: A runner's guide to breathing, meditating, and exploring the prayerful dimension of the sport conflicted. Despite being an avid sportsman growing up, I always hated running. Likewise, despite being a practising Jew I always hated the woolly logic that promoted prayer over good behaviour. To me, the rationale for both was that they enabled you to be effective within a greater discipline -- but they were hardly virtues in their own right.

I don't even agree that running is a sport. Sport is playing a game -- competing and interacting with other people, testing yourself against them. Running is an athletic activity. I detest running; I love sport. On the other hand, as a serious sportsman I have had to rely on running for conditioning at a number of periods in my life, and in the most recent of those times I ran a number of middle and long distance races.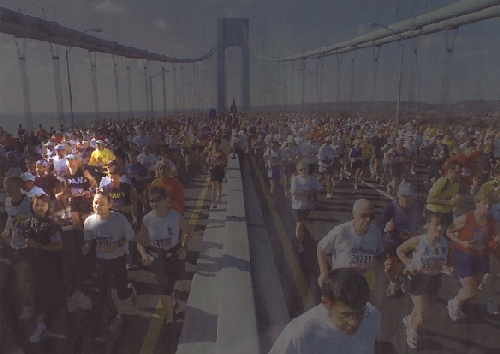 As well as various half marathons I even completed the New York marathon a couple of times and know the paradoxically ecstatic experience of such a physical pursuit.
As with any physically and emotionally draining exercise, completing a marathon is a deeply emotional time, a transcendent time, an overflowing time. So much so that, recovering from the soreness of my first NY Marathon (the one in the aftermath of the 2001 Al Qaeda attacks), I wrote an essay describing seven distinct types of ecstasy which I had experienced. For those reasons, when we received Running the Spiritual Path I was interested reading it and in writing a joint review to see whether Jay, Richard Joslin, and myself might help one another in our conception of Divinity, of the practice of running, and of their combination.