"What is Burning Man" - I get asked this question often, because I talk about Burning Man a lot. It's an unfortunate habit that I share with most other people who go to Nevada's Black Rock Desert at the end of August. Since Burning Man 2003 will have just ended when this article goes online, I thought now might be a good time to try to answer the question as best I can.

The way to do this struck me at a Dead show I went to a few weeks ago. Not for the reasons you might think. Yes, Burning Man has a vaguely hippie-ish, countercultural association, even though most of the people in Black Rock city have never gone to a Grateful Dead show - let alone a "The Dead" show, in the band's post-Garcia incarnation - in their lives, and even though most are are under 35 and techno-heads. And I suppose some of the Dead's well-known psychedelic video projections are important precursors to Burning Man's countless video art installations. But it wasn't what happened onstage at the Dead show that really brought it home; it was what was happening offstage, for better, and mostly for worse.

On a superficial level, Burning Man is a festival, or a temporary city, of 30,000 people spending a week in the desert. There is no organizer/spectator distinction, as at actual 'festivals' - it's all volunteer-run, and participant-driven. There is no "they." In theory, everyone produces art, programming, food, whatever for everyone else to join in and enjoy. As a result, Burning Man is many different things to many different people. For some, it's a seven-day orgiastic, drug-fueled party. For others, it's a warm community of families, with children. For others, a place for some of the most vibrant and creative contemporary American art; or a spiritual center culminating in a climactic, shared ritual; or a vacation.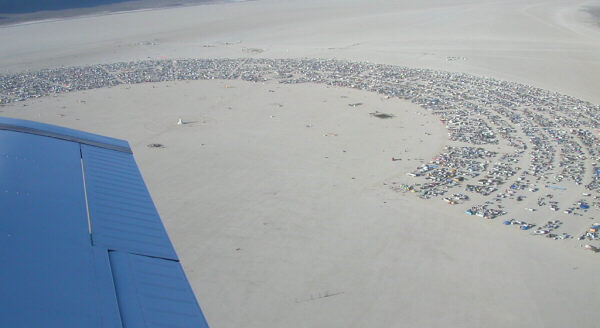 Yet the real essence of Burning Man is not in its material components nor in the events list. Important, but still not the essence of the thing, are its values: "radical self- expression," a gift economy with all vending and signs of commercialism obliterated, participation, interactive art, self-transformation, the erasure of boundaries, the parties, music, sex, and general otherworldliness. Burning Man is its own society, with different modes of interaction between its members, norms which value openness, tolerance, and self-expression in a real, radical sense.
But I think this anecdote from the Dead show really gets what Burning Man and cultures like it is about:
At the Dead show, there were people who wanted to dance, naturally. But the show was at Jones Beach -- actually the 'Tommy Hilfiger at Jones Beach Theater' -- which, despite being a cool place to see a show, has fairly rigid rules about where you can and can 't stand. Moreover, music-biz economics being what they are, the show did not have general admission; we got what seats the computer assigned us. So we paid fifty bucks apiece, me, my friends, and thousands of others, to sit up in the nosebleed section and watch the Dead through binoculars.
At one point, a white kid with dreadlocks and loose, hippie clothing was dancing, I think to Uncle John's Band. An usher/guard told him he had to go back to his seat - no dancing in the aisles. The brother said "Aw, really?" The guard said, "I'm sorry."