Esther Nussbaum

Clearly the adult Modigliani was not shy about his Jewish identity. He is known to have frequently announced "je suis Modigliani, juif" -- "I am Modigliani, the Jew" -- and to have vociferously attacked anyone who made an antisemitic remark. Critically, however, unlike Jewish artists in Paris at the time, Chagall, Soutine, Lipchitz and others, who were refugees from repressive milieus or antisemitic lands, Modigliani's first encounter with antisemitism came when he arrived in Dreyfus-era Paris. One wonders if his stridency was a bit of self-promotion in a Paris still besotted by Orientalism.
The Jewish Museum's examination of the artist's Jewish identity in the milieu in which he found himself is certainly interesting, though not entirely convincing. In addition to pointing out the few overt Jewish references mentioned above, they attempt to show in Modigliani's work possible references to the sefirot of kabbalah, to the teachings of Benamozegh, who was the rabbi of Leghorn when the Modiglianis were active members of the Jewish community. The curators further claim that Modigliani's Jewishness contributed to a general sense of being an outsider, which finds an echo in the artist's refusal to join any of the prominent art movements of his time.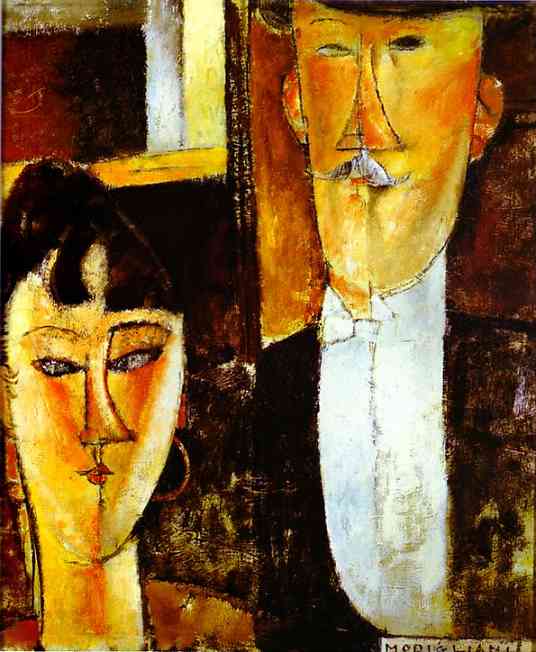 Nowithstanding Modigliani's adopted appellation of "Modigliani juif," this is rather thin evidence, and it is interesting to note that most biographers and art critics do not make much of Modigliani's Jewish identity. (Indeed, whether he is more French than Italian seems to be a more debatable topic: whenever there are words on a canvas they are in French, even though travel guides to the Tuscany area of Italy list Modigliani as an Italian artist from Leghorn.) When addressing the issue of Jewishness, one critic has written that "it appears clearly that one cannot speak of an "Art Juif," yet "the truth is that a number of great Jewish artists have enhanced the value of an expression of art, answering to the anguished restlessness of their time, that has to this day, lost nothing of its vitality."
And yet, Modigliani's contemporary Chagall is widely thought of as a Jewish artist, in whose work Jewish imagery and myth often play central roles. Perhaps Chagall's art is "more Jewish" because Chagall's Jewish roots include experiences of persecution and shtetl life. Perhaps it is because Chagall lived longer. Or perhaps it is because we do not recognize Modigliani's comparatively cosmopolitan subjects and concerns as 'Jewish' in the same way as Chagall's shtetl-dwellers are. Whatever the reason, the apparent dearth of Jewish subject matter in Modigliani leaves one in the uncomfortable position of having to determine if, how much, and in what way, Jewish background and identification makes art "Jewish." It is this question which seems unanswerable. Unless a Jewish artist elects to make Jewishhness a topos of his or her art, even ironically, we are left with ambiguity.
The exhibition at the Jewish Museum does not dispel so much as flesh out the myth of Modigliani to include elements for consideration not previously emphasized. Its desire to reconceive the artist and his work may not be fully successful, but the issues raised are certainly thought provoking, and if nothing else, as an opportunity to see more than one hundred of Modigliani's works, the show is not to be missed.
The exhibition continues at the Jewish Museum in New York until September 19th. Two other exhibition sites follow: The Art Gallery of Ontario in Toronto, October 23, 2004-January 23, 2005; The Phillips Collection, Washington D.C., February 19 - May 29, 2005.

Inside Israel's curious opera ban
May, 2004

Passion and Violence Jay Michaelson


On the Mel Gibson film and the passions of religion
March, 2004

Harvard Death Fugue:
The Exploitation of Bruno Schultz Prof. James Russell


Historical revisionism and the new antisemitism in academia.
January, 2004

Holocaust Video Testimonies Dan Friedman


The other reality TV
August, 2003

The Art of Enlightenment Jay Michaelson


James Turrell and the truth of light
April, 2003

Strasbourg Cathedral Michael Shurkin


The soft borders between Jewish particularism and universalism
February, 2003

Eye Candy Michael Shurkin


Pierre Bonnard at the Phillips Collection
November, 2002

Why We Still Need Beethoven Michael Shurkin
Why modern art survives in a postmodern age
October, 2002

Mystical Nazi Sex Gods Jay Michaelson
What draws protesters to banal holocaust art?
April, 2002

Persistence of Vision Dan Friedman


Eternal Sunshine: The Ultimate Passover Movie
April, 2004