Once upon a time, the prospect of Yeshayahu Leibowitz's ideas going mainstream and driving government policy probably seemed as likely as the improbable scenario of leftists demonstrating in support of Ariel Sharon.
But Israel is a land of strange occurrences.
And so, if the mass pro-Sharon left-wing demonstration that in fact happened last Spring in Tel Aviv didn't presage the coming of the End of Days itself, it might well have signified an equally unexpected moment in Israeli politics: the arrival of the Leibowitzian age.
During his life, Leibowitz's status in Israeli culture was that of both hero and pariah. A renowned scientist—he was head of the Biological Chemistry Department at Hebrew University—Leibowitz also made a name for himself as an idiosyncratic social critic and religious thinker. He was an Orthodox Jew who said that the State of Israel must have no religious significance. He decried the nationalist claims of the Right and the peacenik dreams of the Left. And, hardly an aloof intellectual, he was a well-known personality who lectured to any and every audience and entered into warm correspondences with anyone who wrote to him; he even had his own radio show. As Israel's gadfly, his comments—especially his more outrageous remarks—often made headlines. Many in Israel know him as the man who referred to Israeli soldiers serving in the territories as "Judeo-Nazis," for comparing IDF undercover units to Hamas, and for his open call for soldiers to refuse to serve in the IDF.
Leibowitz's status in Israeli culture was exemplified by a controversy that surrounded him in 1993. After he was announced as the winner of the prestigious Israel Prize, a wave of protest rose. Critics complained loudly: how could Israel award the highest prize in the land, they said, to a man who heaped vile epithets on Israel's soldiers and leadership, who actively undermined the work of the security forces? The issue escalated until Prime Minister Yitzhak Rabin's cabinet voted 15-1 to censure Education Minister Shulamit Aloni for her decision to give him the award. Rabin himself threatened to boycott the award ceremony, prompting Leibowitz to relinquish the prize altogether.
It is a tragic irony that Rabin and his cabinet refused to listen to Leibowitz at that moment. There was no greater critic of the religious-based ideology that was used to justify the assassination of Rabin than Yeshayahu Leibowitz. But it is also ironic that Leibowitz's ideas have now been taken up by a Likud government, justifying the recent "disengagement" from the Gaza Strip and part of the West Bank.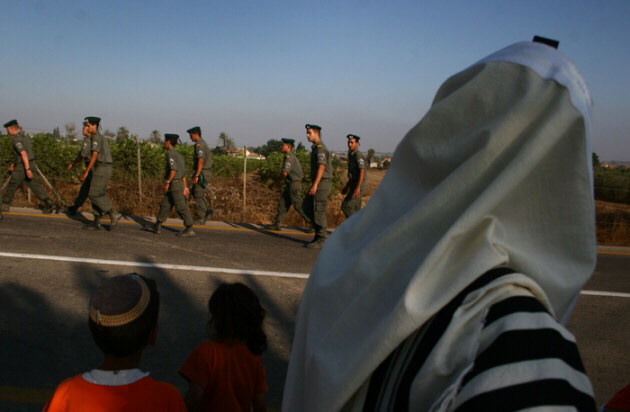 "Disengagement" (Hebrew, hitnatkut) is a deliberate neologism, coined by Sharon's PR team. In theory, it implies a separation not just of Israeli territory from the Palestinian territories, but also of Israelis from Palestinians: it is an attempt to geographically but also culturally, politically, and economically disentangle the fate of Israel from Palestine. In practice, it admits of multiple interpretations. Many people, both in Israel and outside the country, believe (and perhaps, hope) that there will be more territorial evacuations, that the disengagement was more than a one-time political maneuver—and that it indeed constitutes a new policy approach, a new process. In this reading, the decline and fall of the Left's old process, the peace process—an approach based on the principle of "land for peace"—and the recognition that the Right's vision of "the unpartitioned Land of Israel" is unsustainable has led Sharon's government to withdraw its own traditional ideological alliances and rethink it strategic assumptions. On the other hand, perhaps "disengagement" was just a ploy.
In fact, while the name may be new, the path Israel has taken—unilateral withdrawal combined with the uprooting of Jewish settlements—is not new to Israeli thought. From the moment the territories fell under Israel control in 1967 until his death in the mid 1990s Yeshayahu Leibowitz insisted that it was the only way Israel would survive as a Jewish and democratic state.
And some people were listening closely. One of those people was Yonatan Bassi, the man Ariel Sharon appointed to head the Disengagement Administration. In a pre-evacuation interview with Haaretz, Bassi made the Leibowitz-disengagement connection in clear terms. "The occupation," he said , "was only an instrument. It released from within us the flight from freedom, the flight from rationalism. I am not against messianism. But I am against totalistic messianism. Because totalistic messianism can be lethal. It is liable to bring about a situation in which we will lose this country."
When the interviewer responded that this position made Bassi sound like a student of Leibowitz, Bassi readily accepted the label.
"There is not a line of Leibowitz's writings that I have not read," he replied. "He influenced me very deeply." But Bassi, an already notorious figure among pro-settlement circles, was also savvy enough to distance himself from Leibowitz, who is even more notorious in those circles. Ever the moderate, Bassi added this caveat: "But Leibowitz was an extreme person. He was too attracted to the edge, whereas I am looking for the middle. And I am trying to say to my friends: Do not go to the edge. Return to the middle. Return to the balance that we lost immediately after the Six-Day War."
The upshot of Bassi's comments is that Israel needs Leibowitz's ideas without Leibowitz, the curmudgeon and provocateur. Or, in other words, Leibowitz's ideas are too important to remain marginal on account of Leibowitz's divisive rhetoric. Indeed Bassi's role as the head of the disengagement heralds just that: the (attempted) mainstreaming of Leibowitz's views and the translation of these views into actual government policy