Alleys & Fire Escapes, no. 50 - "Deliverance"
Xavier Nuez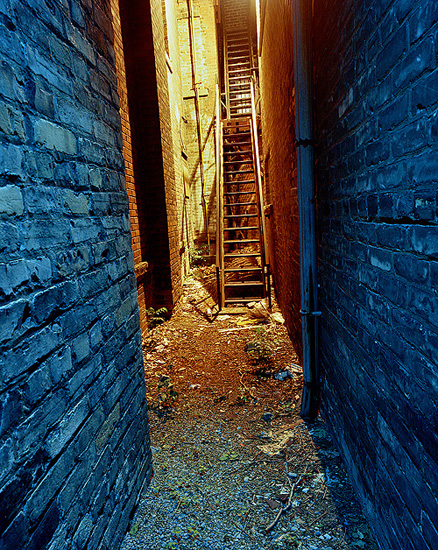 Xavier Nuez was born in Montreal, Canada where he developed an early passion for painting and drawing. He focussed on fine art photography at age 18, whilst attending his first (and only) photography course. Nuez has breen exhibiting his work for over twenty years, including shows at the Lonsdale Gallery, Toronto Outdoor Art Exhibit Gallery TPW, and Photorama, in Toronto. He currently resides in the Bay Area, California.
Alleys & Fire Escapes, no. 50 - "Deliverance" (1999, Toronto, ON) is part of the larger Alleys & Fire Escapes series. Alleys & Fire Escapes explores the texture, moods, and elusive beauty in urban decay. The exposure times of these photos are often up to an hour. This series was recently the focus of a feature story on National Public Radio. As well as photography, Nuez has also experimented with re-glazing chinaware, resulting in the Crystalys series. Nuez's work vibrates with strong color, and possess a powerful ability to bring a sense of drama to everyday scenes and objects.


More cover art:



Marni Horwitz, Three Brothers, Christmas 2001


Jeremy Sparig, Alphabet City after Snow Storm


Jerry and Orrin Zucker, The Strange Trip


Nick Fox-Gieg, The Story of Enoch


Jack Feldstein, The Loser Who Won


Hilla Lulu Lin, Rising of the Sunset


Loren Ellis, The World Cares


Andy Alpern, Fisherman


Jenny Krasner, Power Play X


Zohar Nir-Amitin, unexisted things exist in my head


Ahron Weiner, Ad Infinitum #167


Melissa Shiff, The Medium is the Matzo


Lilian Broca, Queen Esther


Doug Fogelson, Deluge


Peter Azrak, untitled


Art. Lebedev, New Candles


Ron Pokrasso, Altered Tune With A Connection To St. Johns Place


Anonymous, Shofar Kid


Gene Feldman, Color Test


Patricia Albouhair-Taieb, Thou Shalt Not Take the Name of the Lord in Vain


Mina Dareshet, Ocean


Mindy Stricke, Self-portrait


Jesse Mintz-Roth, untitled


Lynne Marie, Movement


Bill Bragg, Defending the Post


Jay Michaelson, Nighttime road


Allyson Grey, Magic Square


Shirah Rachel Apple, Alef 2


David Katz, The Evil Bush Administration


Lauren Curtis, Flora meets Arcadia


John Hall, Untitled


Pamela Yates, Summer Sleeping


Paul Mindell, Greens, Jeans, and InBetweens


Jay Michaelson, Mayflowers


Bara Sapir, untitled


Bara Sapir, untitled


Jay Michaelson, Ice Tree


Jay Michaelson, untitled


Jay Michaelson, Eldorado Chanukah


Jose Campos, III, untitled


Jay Michaelson, Shofar Kitsch


Mica Scalin, Plates


Mica Scalin, Untitled


Jay Michaelson, Go in Peace


Mica Scalin, Hope


Mica Scalin, Plague Cookies


Jay Michaelson, The Park in Winter