Blue During Blues
Robin Ross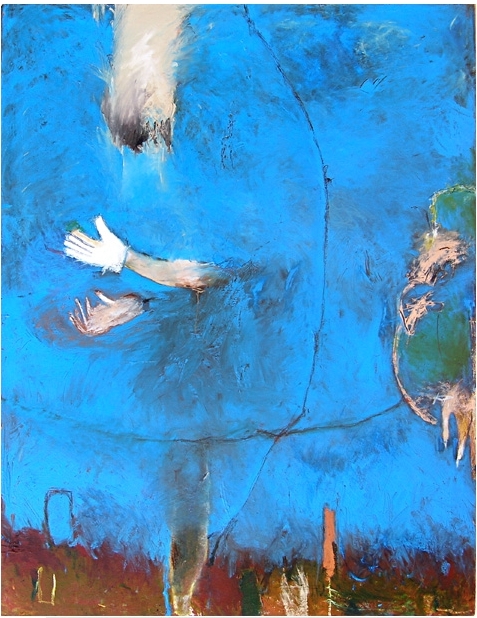 Robin Ross recalls being influenced as a child by the copies of Degas and Braque paintings over her parent's couch that gave her a personal sense of color and immediacy. At the age of eighteen she went into a brief coma, a experience that added an aspect of deep spirituality to her whole life.
Educated at the University of Colorado and New York University, Ross has traveled and lived in many cities, but has been living and working in Brooklyn NY for the past 21 years.
Her work has appeared in publications including Art in General Manual 1992-1993 (1994), The New York Daily News (2002), And Then (2003), and Flying Into the Sun (2004). Ross has appeared on Live at Five as a featured artist on NBC's "Local Focus" (1996), in the independent film Animal Postures by David Varga (1997), and in "Robin Ross: A Look at Hands" directed by filmmaker Leybe Diaz (2004). Her work is present in many private and public collections, including Pfizer Inc. the Brooklyn Marriott Hotel, and the International Monetary Fund. Ross has been awarded grants including the Adolph and Ester Gottlieb Foundation (1997), a residency from the Adesjo Fundacion in Ocoa, DR (2000), and the Mimi S. Dejanikus Award (2004 and 2006). She has recently been featured in Zeek, and is currently represented by Tabla Rasa Gallery.


More cover art:



Susan Dee, How Deep is the Ocean


Evi Tchernikhovski, Moving Clouds


Ezra Sarajinsky, Smyrna Icon


Bara Sapir, Taxi


Xavier Nuez, Alleys & Fire Escapes, no. 50 - "Deliverance"


Marni Horwitz, Three Brothers, Christmas 2001


Jeremy Sparig, Alphabet City after Snow Storm


Jerry and Orrin Zucker, The Strange Trip


Nick Fox-Gieg, The Story of Enoch


Jack Feldstein, The Loser Who Won


Hilla Lulu Lin, Rising of the Sunset


Loren Ellis, The World Cares


Andy Alpern, Fisherman


Jenny Krasner, Power Play X


Zohar Nir-Amitin, unexisted things exist in my head


Ahron Weiner, Ad Infinitum #167


Melissa Shiff, The Medium is the Matzo


Lilian Broca, Queen Esther


Doug Fogelson, Deluge


Peter Azrak, untitled


Art. Lebedev, New Candles


Ron Pokrasso, Altered Tune With A Connection To St. Johns Place


Anonymous, Shofar Kid


Gene Feldman, Color Test


Patricia Albouhair-Taieb, Thou Shalt Not Take the Name of the Lord in Vain


Mina Dareshet, Ocean


Mindy Stricke, Self-portrait


Jesse Mintz-Roth, untitled


Lynne Marie, Movement


Bill Bragg, Defending the Post


Jay Michaelson, Nighttime road


Allyson Grey, Magic Square


Shirah Rachel Apple, Alef 2


David Katz, The Evil Bush Administration


Lauren Curtis, Flora meets Arcadia


John Hall, Untitled


Pamela Yates, Summer Sleeping


Paul Mindell, Greens, Jeans, and InBetweens


Jay Michaelson, Mayflowers


Bara Sapir, untitled


Bara Sapir, untitled


Jay Michaelson, Ice Tree


Jay Michaelson, untitled


Jay Michaelson, Eldorado Chanukah


Jose Campos, III, untitled


Jay Michaelson, Shofar Kitsch


Mica Scalin, Plates


Mica Scalin, Untitled


Jay Michaelson, Go in Peace


Mica Scalin, Hope


Mica Scalin, Plague Cookies


Jay Michaelson, The Park in Winter